Housed in a hangar in the roof of the Gray & Houseman Road Construction Vehicle is the Scout Helijet. Bob Gray and Lester flew over the mountain range to check the damage caused by the heavy rains to the newly cut clearing of the South-East Asian roadway.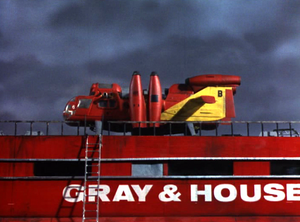 Cross-section (Cutaway Drawing)
Edit
As far as is known, only one cutaway drawing of the Helijet exist, illustrated by Graham Bleathman. It appeared in Redan Thunderbirds Comics, and was based on the US Army version.
Main article: Helijet (U.S Army)
Main article: History of the Cutaway Drawings (Classic Thunderbirds)