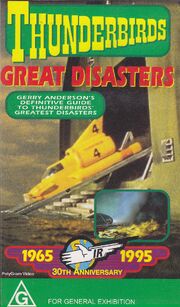 Great Disasters was one in a series of four compilation tapes released in England and Australia by PolyGram in 1995 to celebrate the 30th anniversary of Thunderbirds. As the title suggests, it focused on the most challenging disasters Interntional Rescue have ever faced.
Continuing the format as seen on other tapes, the feature contained new on-screen technical data, and linking narration by Gerry Anderson.
Continuing a trend with the previous tapes, each character bio uses the '2026' timeline. This date originated from an on-screen error in Give or Take a Million that was later popularised during the 1990's Thunderbirds The Comic series.
A section halfway through the documentary is dedicated to a wide variety of explosions seen in the series. While not an 'official' episode itself, the tape treats it as one.
To conclude the tape (and no doubt lighten the mood), the last scene from Cry Wolf was inserted.
Ad blocker interference detected!
Wikia is a free-to-use site that makes money from advertising. We have a modified experience for viewers using ad blockers

Wikia is not accessible if you've made further modifications. Remove the custom ad blocker rule(s) and the page will load as expected.