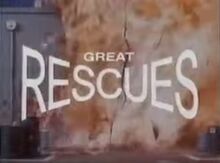 Great Rescues was one in a series of four compilation tapes released in England and Australia by PolyGram in 1995 to celebrate the 30th anniversary of Thunderbirds. As the title suggests, it focused on International Rescue's most daring and dangerous missions.
Continuing the format as seen on other tapes, the feature contained new on-screen technical data, and linking narration by Gerry Anderson.
The following list covers the episode segments in order of appearance:
The last two segments are spelt "The Imposters" and "The Cham Cham" respectively.
To conclude the tape, Jeff Tracy's end speech from Danger At Ocean Deep was inserted.
A publicity still of Thunderbird 2 under Zero X from Thunderbirds Are Go is used on the tape's back cover. To make matters worse, the image was horizontally flipped, which resulted in the former craft's numbers appearing back to front.