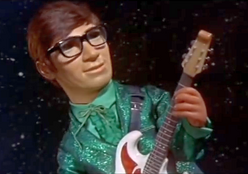 Hank Marvin was the lead guitarist for The Shadows. He played the songs Lady Penelope and Shooting Star with Cliff Richard Junior at The Swinging Star nightclub in Alan Tracy's dream, in the movie Thunderbirds Are Go. He was based on the actual real-life Hank Marvin.
Ad blocker interference detected!
Wikia is a free-to-use site that makes money from advertising. We have a modified experience for viewers using ad blockers

Wikia is not accessible if you've made further modifications. Remove the custom ad blocker rule(s) and the page will load as expected.