"Harman" is a Stub.
You can help Thunderbirds Wiki by expanding it.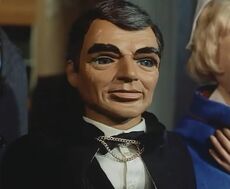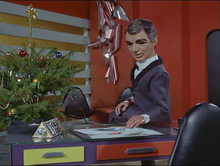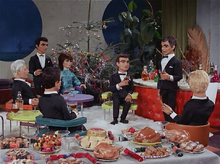 Harman is the owner of Harman's Department Store, in New York City.
He's also a member of the Coralville Childrens Hospital Committee; and in this latter capacity, he and his fellow committee members discuss a holiday-themed fundraiser, to help pay for a new solar therapy wing at the hospital.
Saunders, another member, suggests the idea of a special Christmas rocket (which his company will supply), filled with toys provided by Harman's. Harman himself starts off the fund, by providing a cheque for $10,000. The rocket will also be launched from the roof of his New York store (guaranteeing lots of holiday-shopping publicity), and will need only 10 minutes to reach its destination in Coralville.
A successful test-flight precedes the real one - which parachutes the rocket's special-cargo cannister gently down onto the grounds of Coralville; and it's brimming with holiday presents - one of which contains a very special gift: an invitation for one lucky youngster to spend Christmas with International Rescue...
Harman appears in the episode Give or Take a Million; and his voice was supplied by Ray Barrett.
Ad blocker interference detected!
Wikia is a free-to-use site that makes money from advertising. We have a modified experience for viewers using ad blockers

Wikia is not accessible if you've made further modifications. Remove the custom ad blocker rule(s) and the page will load as expected.