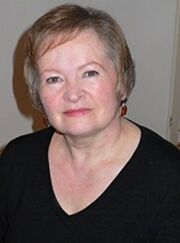 Helen McCarthy (born February 27th, 1951) is an author. She, along with Steve Kyte, allowed Marcus Hearn to photograph and scan some of the rarest items from their collection for Thunderbirds: The Vault.
Ad blocker interference detected!
Wikia is a free-to-use site that makes money from advertising. We have a modified experience for viewers using ad blockers

Wikia is not accessible if you've made further modifications. Remove the custom ad blocker rule(s) and the page will load as expected.