Helijet Pilot Charlie is in the US Army. He flies the relief crew, Lieutenant Mead and Sergeant Reynolds to the Sidewinder during its ill-fated jungle test.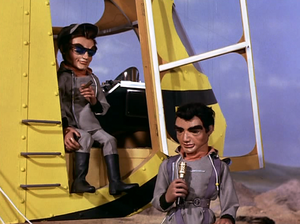 Helijet Rescue Attempt
Edit
Charlie lifts Lieutenant Mead over the pit, and slowly lowers him down inside, to assess the situation of the Sidewinder.
Mead is badly burnt and Charlie has to winch him out quick. Mead is able to report on the condition of the vehicle trapped in the pit.
Reynolds Attach a Line
Edit
A second man Sergeant Reynolds, is lowered into the pit to attach a line to one of the Sidewinder's legs to haul it upright. The line is attached to the Army Helicopter but the line slips off during the rescue attempt.