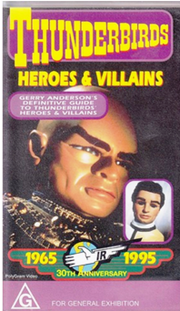 Heroes & Villains was one in a series of four compilation tapes released by PolyGram in 1995 to celebrate the 30th anniversary of Thunderbirds. As the title suggests, it focused on both the International Rescue family of heroes, along with some of the greatest villains they have faced.
Continuing the format as seen on other tapes, the feature contained new on-screen technical data, and linking narration by Gerry Anderson.
Ad blocker interference detected!
Wikia is a free-to-use site that makes money from advertising. We have a modified experience for viewers using ad blockers

Wikia is not accessible if you've made further modifications. Remove the custom ad blocker rule(s) and the page will load as expected.