"Hiram K. Hackenbacker" is Under Construction.
Please feel free to add anything that you think might improve this page.
Using the alias Hiram K. Hackenbacker, Brains has designed a revolutionary new airliner, the Skythrust, for Atlantic Airlines.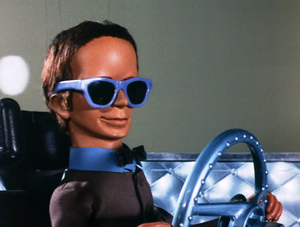 Biography
Edit
Having made his way to London International Airport by car, he is stopped at the gate by Airport Security. After a quick check of his ID, he directed to Building 67 were Captain Saville and members of the press await his arrival.
Skythrust Test Flight
Edit
The delegation move to the observation platform, on the roof of the building, were they get a good view of the runway. The test flight goes well, and after a certificate of airworthiness is obtained, the plane will be ready to go into service.
Ad blocker interference detected!
Wikia is a free-to-use site that makes money from advertising. We have a modified experience for viewers using ad blockers

Wikia is not accessible if you've made further modifications. Remove the custom ad blocker rule(s) and the page will load as expected.