Hoverjets, also known as hoverbikes, are a type of hovercraft. They are used to traverse bad terrain and/or when the situation requires efficiency.[1]
Attached to a driver's seat by a beam which the driver puts their legs either side of is a control console, which holds satellite-linked communications equipment and ergonomically simplified controls for steering. Protruding upwards from this is a single-handed power-assisted steering column; at the end of this there is a red switch for firing missiles. On that note, hoverjets can hold at least five missiles which are kept at the vehicle's very front. The missiles are fired out of a launch tube in the same area, right next to two underside air intakes. Above the missiles is a forward headlamp and behind this is a forward thrust turbofan; when used in conjunction with the artificial gravity generator this gives the hoverjet lift. Next to this directly below the driver's seat are some cooling and forwards thrust vents, the localised artificial gravity generator used for hoverjet stability and a primary forward thrust turbine which has a compressor. Both seats have seat belts and are padded. Underneath the passenger's seat are some cooling vent pipes and a variable angle support stanchion for the rear turbofan that incorporates a multi-directional steering nozzle. Here is also a left-hand turbofan and a rechargeable fuel cell which is also under the same seat. Right at the back end of the vehicle is both a left and right-hand stabilising fin.[2]
Technical Data
Edit
Fuel cell capacity: 400 hours
Top speed: 80 mph
Length: 7 feet
Power Source: an electric turbine motor powered by a fuel cell driving force and aft turbo fan in conjunction with localised artificial gravity generator
Seating capacity: 2 (1 driver and 1 passenger)
Width: 3 feet
Appearances
Edit
Photo Gallery
Edit
Memorabilia
Edit
Very little merchandise has been released over the years that include the Hoverbikes, the following is a list of what is known to have been released:
Vivid Imagination: Attack of the Alligators set was released in 1999. It included a pair of hoverjets piloted by removable Scott and Alan figures, and a plastic alligator.
Takara Models: Scott Tracy on hoverjet. Released in Japan 2002. Large display model. Virgil Tracy on a hoverjet. Released in Japan 2002. Large display model.
System Services: John Tracy on Hoverbike: Released in Japan 1998. Display model.
Robert Harrop: Virgil Tracy on Hoverbike. Released in 2013 a limited edition of only 250. Code TB18.
Memorabilia Gallery
Edit
Martian Invasion
Edit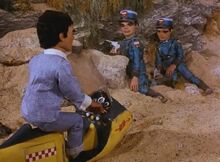 The only time we see somebody outside the International Rescue organization use a hoverbike is in the episode
Martian Invasion
.
References
Edit
↑ Best of Thunderbirds Redan Comic No. 5
↑ Best of Thunderbirds Redan Comic No. 5
Ad blocker interference detected!
Wikia is a free-to-use site that makes money from advertising. We have a modified experience for viewers using ad blockers

Wikia is not accessible if you've made further modifications. Remove the custom ad blocker rule(s) and the page will load as expected.