Equipment & Vehicles
Hoverjet

Type:
Smoke laying special effects machine
Affiliation:
Goldheimer (movie production)
Main Operator:
Brian
Appearances:
Martian Invasion
The Mobile Smoke Unit was used by Brian in the making of a B-movie directed by Goldheimer in Martian Invasion. It blasted smoke into the cave.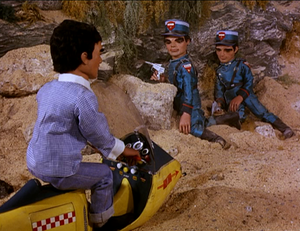 This hoverbike previously appeared in the "Stingray" episode Titan Goes Pop.