Thunderbirds In Outer Space
Writer(s)
Distributor

ITC Entertainment,
Channel 5

Released

1981, 1986

Runtime

95 Mins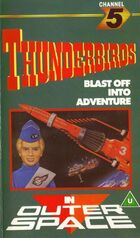 In Outer Space (aka Thunderbirds In Outer Space) was a compilation film originally released by ITC Entertainment in 1981. It was the second in a series of three films comprised of two episodes each, spliced together into a single feature.
NOTE: The film is a compilation of the episodes Sun Probe and Ricochet. For an in-depth synopsis, please read their respective articles.
Deleted Scenes
Edit
Sun ProbeEdit
The embarking of the solarnauts
All four scenes showing Brains playing chess with his robot Braman
The first television newsflash
Jeff saying "Get me Cape Kennedy"
Jeff and Kyrano discussing whether or not it is right to put Tin-Tin's life at risk
The entire opening sequence at Sentinel Base
Alan and Tin-Tin quarrelling in the kitchen, and TB3 returning to Tracy Island
Opening Credits:
FILMED IN
SUPERMARIONATION
Closing Credits:
Associate Producers: Reg Hill & John Read
Characters Created by: Sylvia Anderson
Puppetry Supervision: Christine Glanville & Mary Turner
Character Voices: Sylvia Anderson, Ray Barrett, Peter Dyneley, Christine Finn, David Graham, David Holliday, Shane Rimmer, Jeremy Wilkin & Matt Zimmerman
Puppet Operators: Judith Shutt, Carolyn Turner & Wanda Webb
Sculpting Supervision: John F. Brown
Sculptors: John Blundall & John Brown
Costumes: Elizabeth Coleman
Supervising Art Director: Bob Bell
Art Director: Grenville Nott
Designer: Keith Wilson
Special Effects Directors: Brian Johnson, Shaun Whittacker-Cook
Special Effects Lighting Camermen [sic]: Harry Oakes, Michael Wilson
Director of Photography: John Read
Camera Operators: Ted Cutlack, Jimmy Elliott, Alan Perry
Lighting Cameraman: Paddy Seale
Special Effects 2nd Unit: Lighting Cameraman: Harry Oakes
Camera Operator: John Foley
Script Supervision: Gerry & Sylvia Anderson
Script Editor: Alan Pattillo
Supervising Editor: Len Walter
Editors: Peter Elliott, Harry Ledger
Dialogue Editor: Roy Lafbery
Supervising Sound Editor: John Peverill
Sound Editors: Brian Hickin, Peter Pennell
Sound: Maurice Askew, Ken Scrivener, John Taylor
Property Master: Arthur Cripps
POST PRODUCTION
Copyright 1981, ITC Entertainment Inc. All rights reserved.
As the opening and end credits roll, several spacecraft from a variety of Anderson-produced series can be seen flying across the screen. These vehicles include (but are certainly not limited to):
a TVR-17 from Captain Scarlet
an Angel Interceptor from Captain Scarlet
Eagle and Hawk Transporters from Space:1999
Fireball XL5 from the self-titled series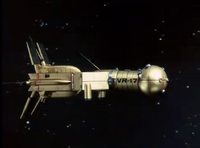 When released on VHS in 1986, the cover featured fanart by Steve Kyte. He was neither consulted nor paid for the use of his work. As a result, Kyte went on to illustrate official covers for the remaining thirteen volumes.