Inside The World Of Gerry Anderson is a 130 page, hard backed book containing all the cross-section artworks by Graham Bleathman. It contains mostly reprints from the children's comic "TV Century 21" that was published in the 1960's.
The book is split into six sections; as well as Thunderbirds, it covers Fireball XL5, Stingray, Captain Scarlet and the Mysterons and Joe 90. The final section includes cutaways under the title "The World of the 21st Century".
Title: Inside The World Of Gerry Anderson.
Published Classic Comics, Egmont UK.
Release date 2015.
ISBN: 978-1-4052-2765-0
Printed in Singapore.
Retail price: £19.99
Written and Illustrated by: Graham Bleathman.
Thunderbird Related Cross-Sections
Edit
The Firefly
Inside The Creighton-Ward Stately Home
The Secrets of FAB 1
Bonga Bonga Ranch (Including FAB 3)
The Lost Pyramid of Kamandadees
Jumping Jack Heli-Jet
World Navy Aircraft Carrier "Atlantic"
Moving the Empire State Building
The Crablogger
Gray Houseman Road Builder
Fireflash Airliner
The British Monorail
American Edition
Edit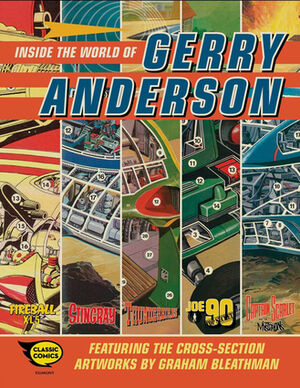 Released with different cover, contents remained the same as the UK edition.
Release date: Feburary 2015
Original retail price: $26.95