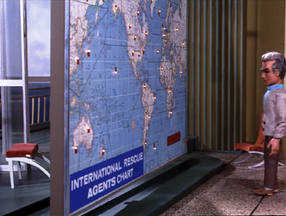 International Rescue has an extensive network of field agents, scattered in locations all over the world, quietly looking out for the secret organisation's interests.
When I.R. head operative Jeff Tracy pushes a certain button on the control panel (on his desk), the International Rescue agents chart drops from a recess in the ceiling of the Tracy Villa lounge. It displays the network and the various territories it covers. The position of each field operative is denoted on the map by a small light.
The Agents
Edit
There are 30 agents marked on the map as follows: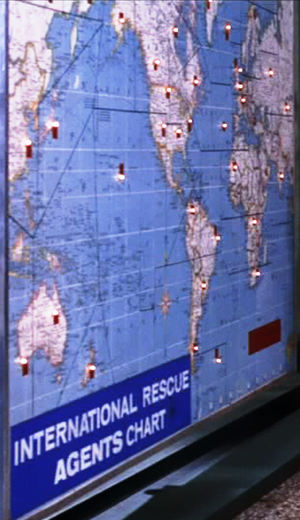 1. Tokyo, Japan.
2. Shanghai, China.
3. Longreach, Australia.
4. Perth, Western Australia.
5. Wellington, New Zealand.
6. Hawai'ian Islands, Central Pacific Ocean.
7. Alaska, North America.
8. Hudson Bay, Canada.
9. Newfoundland Canada
10. British Columbia, Canada.
11. New York City, United States
12. North Dakota, United States.
13. California, United States.
14. Southern States. Agent: Jeremiah Tuttle
15. Colombia, South America.
16. Brazil, South America.
17. Argentina, South America.
18. Falkland Islands, South Atlantic Ocean.
19. Durban, South Africa.
20. The Congo, Africa.
21. Dakar, Senegal, Africa.
22. Azores, Eastern Atlantic Ocean.
23. Paris, France.
24. London, England. Agent: Lady Penelope Creighton-Ward
25.Edinburgh, Scotland.
26.Spitsbergen, Norway.
27.Greenland, Arctic Ocean.
28.Moscow, Russia.
29.Ukraine, Russia.
30.Hyderabad, India.