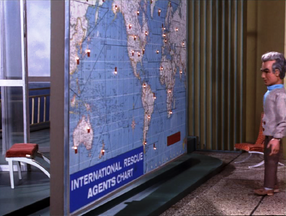 International Rescue has Agents all over the world, The map shows the network, and the territory's covered by each individual.
After Jeff pushes a button on the control panel (on his desk), the International Rescue Agents chart drops from a recess in the ceiling. The position of the Agents are marked on the map by a small light.
The Agents
Edit
There are 30 agents marked on the map as follows: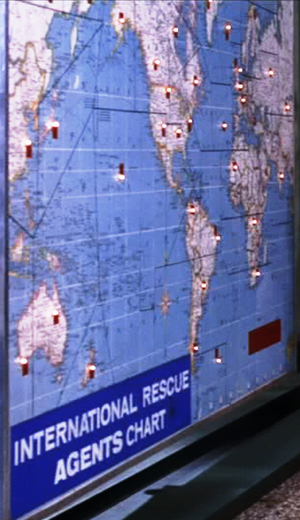 1. Tokyo, Japan.
2. Shanghai, China.
3. Queensland, Australia.
4. Perth, Australia.
5. Wellington, New Zealand.
6. Hawaii, Pacific Ocean.
7. Alaska, North America.
8. Hudson Bay, Canada.
9. Newfoundland Canada
10. British Columbia, Canada.
11. New York City, United States
12. North Dakota, United States.
13. California, United States.
14. Southern States. Agent: Jeremiah Tuttle
15. Venezuela, South America.
16. Brazil, South America.
17. Argentina, South America.
18. The Falkland Islands.
19. Durban, South Africa.
20. The Congo, Africa.
21. Dakar, Senegal, East Africa.
22. Azores, Atlantic Ocean.
23. Paris, France.
24. London, England. Agent: Lady Penelope Creighton-Ward
25.Edinburgh, Scotland.
26.Spitsbergen, Norway.
27.Greenland, Arctic Ocean.
28.Moscow, Russia.
29.Ukraine, Russia.
30.Hyderabad, India.
Ad blocker interference detected!
Wikia is a free-to-use site that makes money from advertising. We have a modified experience for viewers using ad blockers

Wikia is not accessible if you've made further modifications. Remove the custom ad blocker rule(s) and the page will load as expected.