"Introducing Thunderbirds" was the first in a series of three original records to feature Thunderbirds. Released in October 1965, the 7" vinyl consists of an exclusive 21- minute adventure, written by Alan Fennell - and starring Jeff Tracy, Lady Penelope, and Parker.
Having received a mysterious invitation, Lady Penelope and Parker head to an island, located in the Pacific Ocean. Upon arrival, they meet up with billionaire ex-astronaut Jeff Tracy, who requires their assistance with a special project that will change the world forever...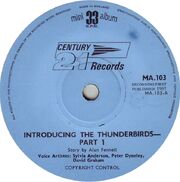 This story is set shortly before the events of Trapped in the Sky, with International Rescue almost ready to begin operating.
In contrast to the television series, Jeff Tracy knows of - and even name-drops - The Hood. His brief description of the criminal would be used once more in Haynes' Agents' Technical Manual.
A Dutch version titled "Kennismaking met The Thunderbirds" was released on LP in the Netherlands. The B-side featured a Dutch version of The Abominable Snowman.
In 2015, as part of the Kickstarter-funded project Thunderbirds 1965 (marking the series' 50th anniversary), this audio story was turned into a video episode.
Thunderbird 1 is 90 feet long, instead of 115 feet.
Transcript
Edit
Main article: Introducing Thunderbirds (Century 21)/Transcript