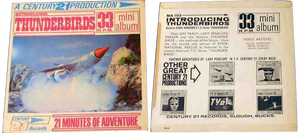 "Introducing Thunderbirds" was the first in a series of three original records to feature Thunderbirds. Released in October 1965, the 7" vinyl consists of an exclusive 21 minute adventure written by Alan Fennell, starring Jeff Tracy, Lady Penelope, and Parker.
Having received a mysterious invitation, Lady Penelope and Parker head to an island located in the Pacific Ocean. Upon arrival, they meet up with billionaire ex-astronaut Jeff Tracy, who requires their assistance with a special project that will change the world forever...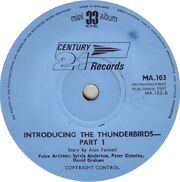 Transcript
Edit
Main article: Introducing Thunderbirds (Century 21)/Transcript
Ad blocker interference detected!
Wikia is a free-to-use site that makes money from advertising. We have a modified experience for viewers using ad blockers

Wikia is not accessible if you've made further modifications. Remove the custom ad blocker rule(s) and the page will load as expected.