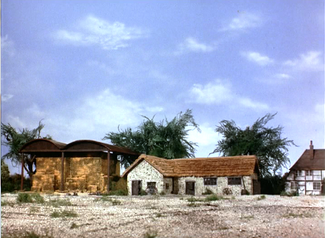 Located on the west coast of Ireland, the farm was used by Scott Tracy as a search base on the hunt for the lost Fireflash 4 airliner. He set-up his mobile control inside the farmer's barn. The farmer made Scott milk the cows before letting him return to Tracy Island.
The farm building and hay barn also appear briefly in The Impostors.
Ad blocker interference detected!
Wikia is a free-to-use site that makes money from advertising. We have a modified experience for viewers using ad blockers

Wikia is not accessible if you've made further modifications. Remove the custom ad blocker rule(s) and the page will load as expected.