The JT1 Condor (known as the Condor XL6 in Supermarionation Cross-Sections and simply called Jeff Tracy's two man jet in Thunderbirds FAB Cross-Sections) is Jeff Tracy's supersonic, VTOL, and delta wing jet featured in Atlantic Inferno.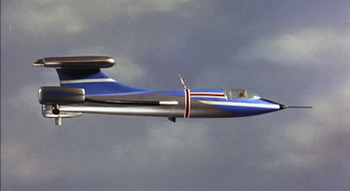 Technical Data
Edit
Armaments: none
Endurance: 21 hours without refuelling
Height: 6.20 metres
Length: 22 metres
Power: Tracy Aerospace TB505 Turbojet, 3 vertical take off ramjets, tail-mounted ramjet
Personnel capacity: 4
Range: 4800 kilometres
Service ceiling: 20,000 metres
Top speed: in excess of Mach 3
Weight: 9,200 kilograms
Weight with fuel: 12,780 kg
Wingspan: 12.6 metres
Cross-sections (Cutaway Drawings)
Edit
As far as is known, only two cutaway drawings of the JT1 Condor exist. Both were illustrated by Graham Bleathman. The first appeared in Redan Thunderbirds Comic, issue 56, and the second featured in the Haynes Thunderbirds manual.
Main article: History of the Cutaway Drawings (Classic Thunderbirds)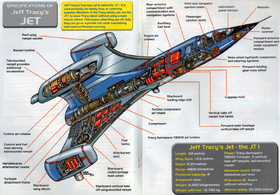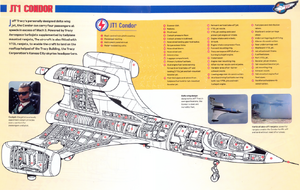 It is unknown exactly what JT1 stands for. Presumably Jeff Tracy, with the number one simply being added for effect?
Ad blocker interference detected!
Wikia is a free-to-use site that makes money from advertising. We have a modified experience for viewers using ad blockers

Wikia is not accessible if you've made further modifications. Remove the custom ad blocker rule(s) and the page will load as expected.