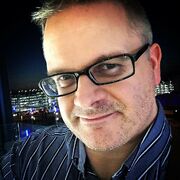 James Fielding (born 1971) is a photographer and long time Thunderbirds fan. He worked as a unit photographer on Filmed in Supermarionation and Thunderbirds 1965, providing behind the scenes and publicity pictures. He was also one of the many backers of the latter project.
Additionally Fielding received thanks on Gerry Anderson: A Life in Pictures.
Fielding is known as "Mr. Jim" on sites like YouTube, as well as the Fanderson forum.
External Links
Edit