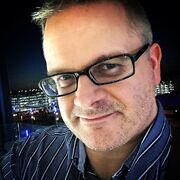 James Fielding (born 1971) is a photographer and long time Thunderbirds fan. He worked as a unit photographer on Filmed in Supermarionation and Thunderbirds 1965, providing behind the scenes and publicity pictures.
He is credited under "With thanks to" on Gerry Anderson: A Life in Pictures.
Fielding is known as "Mr. Jim" on sites like YouTube, as well as the Fanderson forum.
External Links
Edit
Ad blocker interference detected!
Wikia is a free-to-use site that makes money from advertising. We have a modified experience for viewers using ad blockers

Wikia is not accessible if you've made further modifications. Remove the custom ad blocker rule(s) and the page will load as expected.