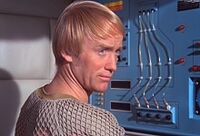 Jeremy Wilkin (born 6 June 1930) is an English-born Canadian actor.
Born in Byfleet, Surrey, Wilkin emigrated to Canada after completing his studies at the Royal Academy of Dramatic Art. He had previously trained as a doctor.
Returning to Britain in the mid-1960s, Wilkin provided the voice of Virgil Tracy for the second season of Thunderbirds, and the movies Thunderbirds Are Go and Thunderbird 6, following the departure of the character's original voice actor, David Holliday, in 1965.
In 1968 he provided the voice of Captain Ochre, the original Captain Black and many supporting characters for Captain Scarlet and the Mysterons. He was also a recurring cast member for the live-action series UFO. Other Gerry Anderson credits include Joe 90 and The Secret Service.
Gallery: Characters voiced by Jeremy Wilkin
Edit
Main article: Category:Characters Voiced by Jeremy Wilkin
Ad blocker interference detected!
Wikia is a free-to-use site that makes money from advertising. We have a modified experience for viewers using ad blockers

Wikia is not accessible if you've made further modifications. Remove the custom ad blocker rule(s) and the page will load as expected.