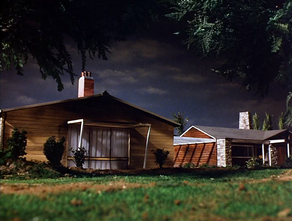 Jim Lucas (a highly successful businessman) lives with his wife at 20 Hazlemere Gardens, Iresham.
In Path Of Destruction, Jim (Inventor of the Crablogger) gets a visit from Lady Penelope in the middle of the night, when the shut down procedure is needed for the machine, when it goes on a path of destruction.
A Night-time Visit From Lady Penelope
Edit
Main article: A Matter of Life or Death
According to the card that Penelope finds in the personnel files at Robotics International, Jim Lucas lives at 75 Sunnigale Road, Eppington Wood East, Somerset, but she reads it out to Parker as "20 Hazlemere Gardens, Iresham".