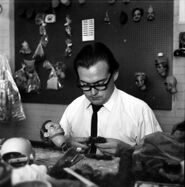 John Blundall (March 3rd, 1937 - August 18th, 2014) worked as a sculptor on Thunderbirds season 1. He sculpted Aloysius Parker and Kyrano. Blundall previously worked for A.P. Films on Supercar, Fireball XL5, and Stingray.
Quotes from Blundall appear in What Made Thunderbirds Go!. An interview with him was later published in issue 12 of Andersonic. Additionally Blundall was interviewed for Filmed in Supermarionation - both the book and the documentary.
External Links
Edit
Ad blocker interference detected!
Wikia is a free-to-use site that makes money from advertising. We have a modified experience for viewers using ad blockers

Wikia is not accessible if you've made further modifications. Remove the custom ad blocker rule(s) and the page will load as expected.