John appears in 25 TV episodes (exceptions Sun Probe, Move - And You're Dead, The Perils of Penelope, Terror in New York City, Security Hazard, Alias Mr. Hackenbacker and Lord Parker's 'Oliday).
Trapped in the Sky
Edit
From aboard International Rescue's orbital listening post, John monitors the attempts to save the Fireflash - first by the airliner's own flight crew and then by another aircraft, seeking to transfer a volunteer aboard; both intent on disarming the bomb placed aboard. But both efforts fail. John reports in to base - and the Thunderbirds are summoned to action for the first time...
Pit of Peril
Edit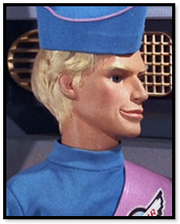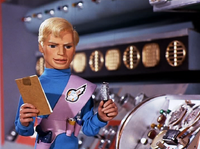 John listens in on the developing situation involving one of the Army's enormous Sidewinder vehicles - which has uncontrollably tumbled into a burning pit. Back at base, the Tracys must walk carefully, at first; as Jeff (himself a military man) cautions that the Sidewinder operation may in fact be a top-secret military project...
When all seems lost, John is on hand to report to Tracy Island that, yes, the Army has indeed called for International Rescue; and their help is needed after all...
City of Fire
Edit
Uh-oh (he spoke too soon): John's packed his bags, and is eagerly looking forward to his latest monthly leave at home. But his much-anticipated plunge into the Tracy Island swimming pool will have to wait - there's an emergency call coming in....
The Uninvited
Edit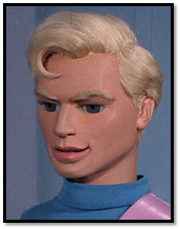 As another monthly tour ends aboard Thunderbird 5, John awaits the imminent arrival of Thunderbird 3. He has some parting "marching orders" - with immediate effect - for his brother Alan, before he heads back home to Earth...
The Mighty Atom
Edit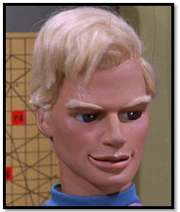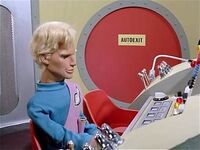 All good things must come to an end - including John's latest month-long leave at home on
Tracy Island
. An astronaut by training - as well as an astronomer - he expertly docks
Thunderbird 3
to
Thunderbird 5
, where
Alan
waits to be relieved...
Vault of Death
Edit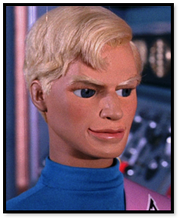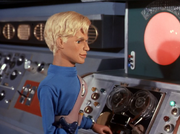 Even the best-laid plans of
International Rescue
can go awry in the field - as John reports, when he updates
Tracy Island
on his brothers' attempts to reach
Bank of England
employee
Lambert
- who's accidentally become trapped inside the bank's vault...
Operation Crash-Dive
Edit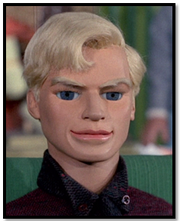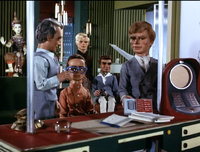 Seeing news reports while he's home on leave, John, his father
Jeff
and
Tin-Tin
speculate about what's causing
Fireflash
airliners to unaccountably disappear while in flight. "Sabotage, again?" John wonders, as he recalls International Rescue's
very first mission
...
Martian Invasion
Edit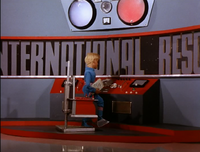 John
picks up a distress call from the Goldheimer Film Unit, on location in the Nevada desert. He informs
Tracy Island
that an explosion has trapped two of the unit's actors in a cave.
Thunderbirds
1 and 2 make a successful rescue - but
Scott
,
Virgil
and their "miracle machines" will
themselves
soon be in need of saving...
Brink of Disaster
Edit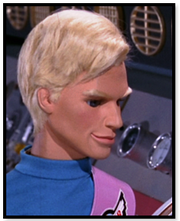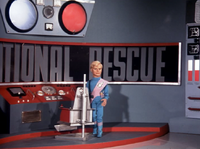 "Calling International Rescue...my name is Tracy..."
"Go ahead...Tracy. This is International Rescue..."
"This is urgent. The Pacific-Atlantic Monotrain is out of control..."
"Is anyone with you?"
"The company president is right beside me. And one other man and a girl are aboard."
"OK, Mr Tracy, we're on our way..."
End of the Road
Edit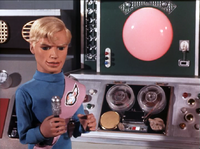 Reporting a call for help to Tracy Island, John's in a quandary as he reveals who it is who's in danger: none other than Eddie Houseman, who knows the Tracy family, but not their most important secret: they're really International Rescue! "Should I turn this call down?" No, says his father, "We never turn down any call..."
Day of Disaster
Edit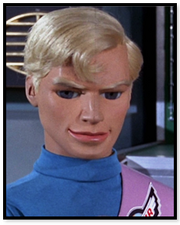 The Rescue Whisperer:
John
reacts at hearing a familiar voice coming over the radio, "Calling International Rescue" - it's
Brains
! "What're you whispering for?" he asks. "L-listen to me, John...I've got a job for you," and John does. "OK, I get the picture," and, putting Brains on standby, John alerts
Tracy Island
to the danger to the
Martian Space Probe
rocket and its trapped crew, at the site of the collapsed
Allington Suspension Bridge
...
Edge of Impact
Edit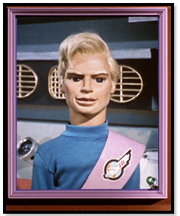 Operation Cover-up is in effect, as Tracy Island entertains an unexpected visitor: Jeff's old friend, Colonel Tim Casey - who doesn't know that his host is secretly the leader of International Rescue. That's about to be put to the test, though, as John's "everyday" portrait bleeps...emergency call coming in...
Desperate Intruder
Edit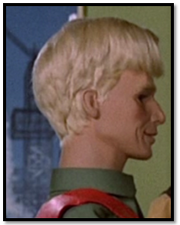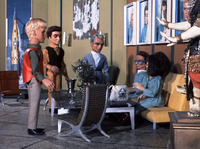 Brains' and Tin-Tin's pending departure from Tracy Island, to join the Lake Anasta Expedition in search of buried treasure, is the talk of the family - including John, who's home on leave. After Scott reminds her "to save me a gem or two," Tin-Tin turns to John...
"Anything special you would like?" she asks him. "How about a bright little diamond?"
"Well," he says, "I think I'd rather I'd have a dirty old bar of gold!"
30 Minutes after Noon
Edit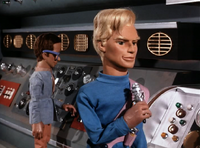 It's a hot one: John and
Brains
hear news reports of the
Erdman Gang
's attempt to blow up the
Hudson Building
. Later, when secret agent
Southern
's plan to infiltrate the gang goes
very
wrong, his superior,
Sir William Frazer
, alerts TB5; and John reacts: "Wow-wee, that's serious!"
The Impostors
Edit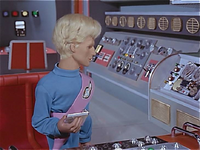 When International Rescue is forced to suspend all rescue activity - due to criminals having stolen their identity - only John remains able to operate normally, because Thunderbird 5's existence out in space is unknown. He eavesdrops on communications traffic concerning the worldwide military search for IR's hidden base...and, while so doing, becomes privy to a certain very interesting conversation...
The Man From MI.5
Edit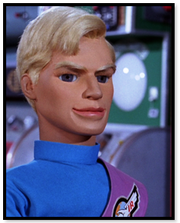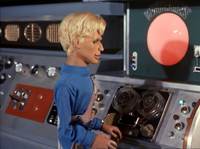 An agent with the British Security Service contacts Thunderbird 5, seeking International Rescue's assistance - and telling John that unless IR does help him, the entire world could be destroyed...!
Knowing the family business refrains from involvement in such matters, John calls in to Tracy Island for guidance on this "kind of unusual" emergency call: "I don't know what to make of it," he admits to his father. Jeff listens, and then advises his son what course of action to take...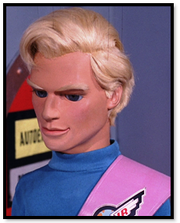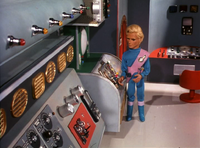 John's concerned for "a small boy, Australian," whose call for help is picked up by
Thunderbird 5
. "I couldn't ask any questions, he was only transmitting," he tells
Tracy Island
. "If he's as scared as he sounded, he could panic and fall" from the ledge where he's trapped. When
Thunderbird 1
locates the injured child, though,
Scott
finds a
very
different sort of "danger zone..."
Danger at Ocean Deep
Edit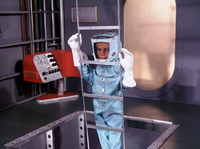 At long last - rescue! When the tanker Ocean Pioneer II ominously goes silent, somewhere in the Mediterranean, with its volatile cargo - all while John's home, on leave - he's available to go on the mission to save it...and, indeed, gets the call...
Main article: John Goes on a Rescue
The Duchess Assignment
Edit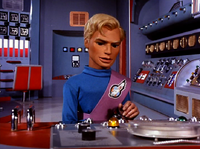 When the Duchess of Royston goes missing soon after she arrives in New York, Lady Penelope contacts Tracy Island, fearing her friend Deborah's been kidnapped! It's up to John, to home in on the signal emitted by a St Christopher brooch the Duchess is wearing - and, expert tracker that he is, he does so. Thunderbirds 1 and 2 are quickly in the air, and John directs his brothers Scott and Virgil to a certain "lonely spot" out in the countryside...where things are about to go from bad, to even worse...
Attack of the Alligators!
Edit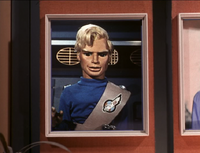 As International Rescue's "gatekeeper," aboard Thunderbird 5, John can expect to hear just about anything - but even he is taken aback, when a call for help comes in from along the isolated Ambro River in South America: "Giant alligators?!"
The Cham-Cham
Edit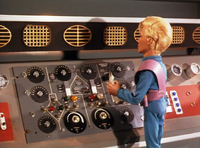 The Game's afoot: during their regular monthly shift-change aboard Thunderbird 5, John and Alan are listening to the hit song Dangerous Game - performed live, by The Cass Carnaby Five - over the space-station's radio system. "Tin-Tin really digs this number," Alan comments. John agrees: "Yeah, it's great!"
Atlantic Inferno
Edit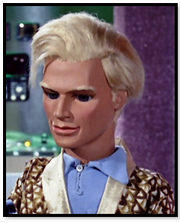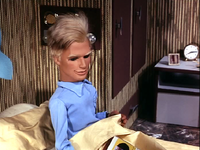 Emergencies don't keep business hours: woken in the middle of the night, John's called to action when a fire - triggered by a "maverick" World Navy torpedo that exploded on the seabed - erupts from the depths of the Atlantic Ocean, endangering the massive drilling rig Seascape...
Path of Destruction
Edit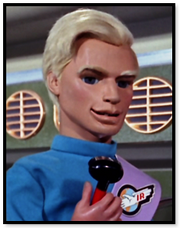 Virgil
and
Brains
have managed to board the out-of-control
Crablogger
- but only the forest-clearing behemoth's designer,
Jim Lucas
, knows the
exact
procedure for shutting it
down
! As
Lady Penelope
and
Parker
trace his whereabouts,
John
's standing by aboard TB5 to transmit those all-important instructions...before Crablogger crashes into a major dam - and explodes...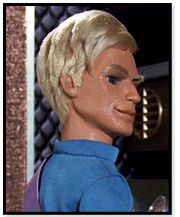 When it comes to needing regular mechanical maintenance every so often, Thunderbird 5 is no different from her sister Thunderbirds back on Earth - and Thunderbird 3's just delivered the latest cache of hi-tech nuts-and-bolts; along with Gordon, who's staying on to pitch in an extra pair of hands, to help John with the work.
There's a major downside, though: TB5 will be off the air for the time the two brothers will need, to complete the project. And that couldn't come at a worse-possible time, for the small Pirate Satellite TV Station KLA...
Give or Take a Million
Edit
I (Won't) Be Home for Christmas: while his family and friends are together on Tracy Island, John faces spending the holidays alone, in orbit aboard Thunderbird 5. (Poor old John...!)