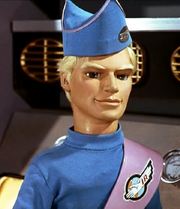 A collection of images showing the outfits of John Tracy.
Casual Dress Wear
Edit
Protective Clothing
Edit
In Danger At Ocean Deep, John was on leave from Thunderbird 5 so went on mission to help save the Ocean Pioneer.
Chemical Protection Suit
Edit
Scott and John wore this type of protection when they boarded the Ocean Pioneer to rescue the crew.
Ad blocker interference detected!
Wikia is a free-to-use site that makes money from advertising. We have a modified experience for viewers using ad blockers

Wikia is not accessible if you've made further modifications. Remove the custom ad blocker rule(s) and the page will load as expected.