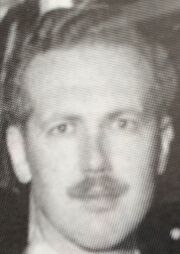 Keith Shackleton (born March 25th, 1929) was head of merchandising for A.P. Films / Century 21. His bowler hat featured in 30 Minutes After Noon.
An interview with Shackleton, conducted by Marcus Hearn, was published in Thunderbirds: A Complete Guide to the Classic Series.
He suggested to Gerry Anderson that the company name should change to Century 21.
Ad blocker interference detected!
Wikia is a free-to-use site that makes money from advertising. We have a modified experience for viewers using ad blockers

Wikia is not accessible if you've made further modifications. Remove the custom ad blocker rule(s) and the page will load as expected.