"Lady Penelope Creighton-Ward/Missions and Adventures" is Under Construction.
Please feel free to add anything that you think might improve this page.
This is a list of the Missions and Adventures that Lady Penelope Creighton-Ward participated in.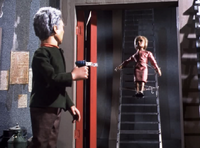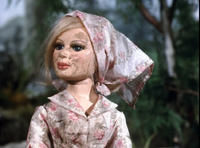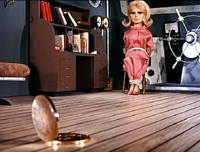 Trapped in the Sky
Edit
The Hood has stolen photographs of Thunderbird 1, while landed at London International Airport. When the airport police lose him in a motorway chase, Scott Tracy calls in International Rescue's London agent, Lady Penelope Creighton-Ward, to take up the pursuit...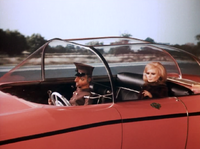 The Mighty Atom
Edit
Lady Penelope, holidaying on Tracy Island, begs Jeff Tracy to let her go along on the mission to the Saharan Atomic Station. She joins Virgil and Gordon in Thunderbird 2. On arrival at the danger zone, she is told to stay on board and monitor messages.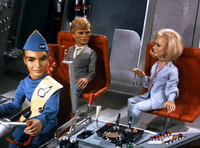 Vault of Death
Edit
Lady Penelope and Parker are invited to break into the vault of the Bank of England to illustrate that improved security is required.
Brink of Disaster
Edit
Warren Grafton seeks to enlist Lady Penelope as one of the investors in his new Pacific Atlantic Monorail...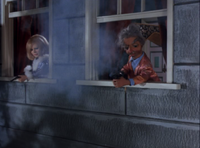 The Perils of Penelope
Edit
Sir Jeremy Hodge calls in fellow International Rescue agent Lady Penelope to help him find his friend Professor Borender, who has inexplicably disappeared from a mountain train during a journey to Anderbad. The investigation leads Penelope into great peril...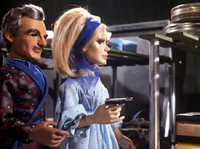 30 Minutes After Noon
Edit
Jeff calls Lady Penelope for help, in stopping the Erdman gang. The gang are escaping by car, to a rendezvous with the Gang leader, who is waiting in a Skymaster Helijet.
The Impostors
Edit
Jeff Tracy contacts Lady Penelope to help him find the "Impostors" who have compromised International Rescue's reputation...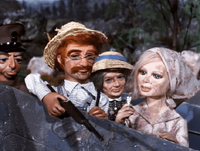 The Man from MI.5
Edit
Lady Penelope sets herself up as a target for thieves who have stole the plans of a nuclear device. Posing as fashion model Gale Williams, she and Parker head off to the French Riviera aboard her yacht, FAB-2...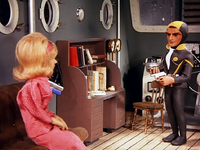 Danger at Ocean Deep
Edit
Lady Penelope is invited by Lord Worden to launch Ocean Pioneer II, and then tries to solve the mystery of the whereabouts of OD-60.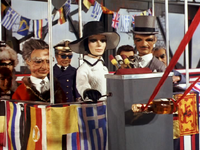 The Duchess Assignment
Edit
In a French Casino, Lady Penelope spies a friend, the Duchess of Royston, playing roulette at another table. The Duchess tells her that she has lost everything, except her precious Braquasso painting "Portrait of a Gazelle". Two crooks, Chandler and Brophy, overhear this, and make plans to steal it...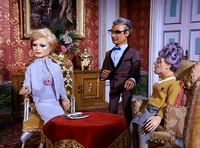 The Cham-Cham
Edit
Undercover as singer Wanda Lamour, Lady Penelope sets out for the mountaintop Paradise Peaks Hotel, where she and Tin Tin investigate a mysterious device called "The Cham-Cham."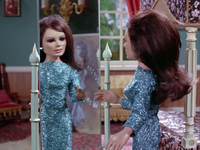 Atlantic Inferno
Edit
Convinced that Jeff needs a break from his rescue duties, Lady Penelope invites him to stay with her on her Australian Ranch.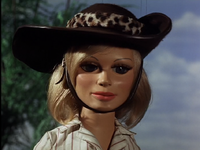 Path of Destruction
Edit
When the crew of the massive Crablogger collapses - sending the machine on a uncontrolled path of destruction - Lady Penelope and Parker pay a midnight visit to its inventor, Jim Lucas, seeking critical information on how to being it to a stop...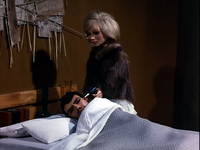 Alias Mr. Hackenbacker
Edit
A visit to an Old Friend
Edit
Lady Penelope pays a visit to an old friend, fashion designer François Lemaire, who shows her his new creation "Penelon".
Coffee with Ashton
Edit
Lady Penelope arranges a meeting with Captain Ashton in a Café in Paris, where she puts to him her plan for a fashion show aboard his aircraft (Skythrust) on its maiden flight.
Fashion Show Aboard The Skythrust
Edit
Lady Penelope agrees to take part in Francois Lemaire's Fashion Show, on-board the Skythrust, while the plane is in flight.
When Madeline and her co-conspirators hijack the plane, Lady Penelope is able to unobtrusively get a distress call off to International Rescue, who are quickly on the scene.
Lord Parker's 'Oliday
Edit
Lady Penelope and Parker are among the invited guests to witness the first test of a new solar generator at Monte Bianco, they stay at the local Hotel run by Senor Faccini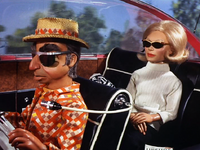 Give or Take a Million
Edit
Jeff invites Penelope to Tracy Island, to spend Christmas with him and his family.
Thunderbirds Are Go
Edit
Thunderbird Six
Edit
Ad blocker interference detected!
Wikia is a free-to-use site that makes money from advertising. We have a modified experience for viewers using ad blockers

Wikia is not accessible if you've made further modifications. Remove the custom ad blocker rule(s) and the page will load as expected.