"Lady Penelope Creighton-Ward (TB2015)/Missions" is under construction.
Please feel free to add anything that you think might improve this page.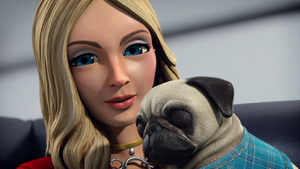 This is a list of the missions that Lady Penelope has taken part in, and other appearances.
Ring of Fire Part 1
Edit
Lady Penelope and Parker track down the components of the Hood's earthquake machines to a disused factory. They find a button and a note, which asks them to push it. The Tracy brothers argue about the button, and when they decide to press it, Parker does so and replies with, "My thoughts, h'exactly."
Ring of Fire Part 2
Edit
Space Race
Edit
Unplugged
Edit
Tunnels of Time
Edit
Falling Skies
Edit
Heist Society
Edit
The Hexpert
Edit
Designated Driver
Edit
Chain of Command
Edit
Undercover
Edit
City Under the Sea
Edit
Up from the Depths Part 1
Edit
Up from the Depths Part 2
Edit
Lost Kingdom
Edit
Weather or Not
Edit
Escape Proof
Edit
Bolt From the Blue
Edit
Lady Penelope visits an orbiting solar energy station, but when it starts to malfunction, the manager escapes on a capsule, and it is Lady Penelope's job to shut down the station with Parker and Kinnear.
Clean Sweep
Edit
When Lady Penelope was in a conference in Milan and was about to go on stage, John called her that he wanted her to assist in their rescue. Lady Penelope said that she couldn't go, and she sent Parker instead of her.
The Man From TB5
Edit
Lady Penelope appears at the charity event as the auctioneer. The Hood later crashes the auction.
Home on the Range
Edit
Penelope and Parker track down the intruder, being the Mechanic. FAB 1 then loses power and Penelope helps with the rescue.
Rigged for Disaster
Edit
Lady Penelope arrives at a rig after she takes possession. When the equipment on the rig starts to malfunction, Penelope assists in the rescue after Malloy escapes in a life boat.
Brains vs. Brawn
Edit
(Under Construction)