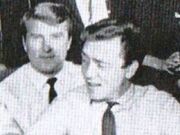 Len Cleal (born 1935) was the assistant editor on Thunderbird 6. He also adapted a handful of episodes for Century 21 Records. Additionally Cleal must have worked on Thunderbirds, because he appears in the famous 'Who's Who' photograph from 1965.
External Links
Edit
Ad blocker interference detected!
Wikia is a free-to-use site that makes money from advertising. We have a modified experience for viewers using ad blockers

Wikia is not accessible if you've made further modifications. Remove the custom ad blocker rule(s) and the page will load as expected.