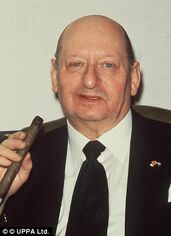 Lew Grade (25 December 1906 – 13 December 1998), was the British TV director and Talent Scout who commissioned and funded the showing and production of Thunderbirds to ITV. In 1962, AP Films became a subsidiary of ITC. Co-founded by Gerry Anderson, it produced children's marionette puppet ("Supermarionation") series during the 1960s, including Thunderbirds (1965–66) and (as Century 21) Captain Scarlet and the Mysterons (1967–68). After a screening of the pilot episode for Thunderbirds (Trapped in the Sky), Grade famously said to Anderson, "Gerry, this is not a television series! This is a feature film!".
Grade then insisted that the episodes be lengthened to fill a one-hour slot. Grade also helped to promote the films Thunderbirds Are Go and Thunderbird 6, which sadly both flopped.
Ad blocker interference detected!
Wikia is a free-to-use site that makes money from advertising. We have a modified experience for viewers using ad blockers

Wikia is not accessible if you've made further modifications. Remove the custom ad blocker rule(s) and the page will load as expected.