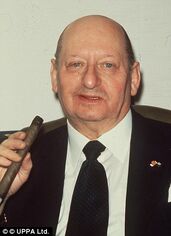 Lew Grade (25 December 1906 – 13 December 1998), was the British TV director and Talent Scout who commissioned and funded the showing and production of Thunderbirds to ITV. In 1962, AP Films became a subsidiary of ITC. Co-founded by Gerry Anderson, it produced children's marionette puppet ("Supermarionation") series during the 1960s, including Thunderbirds (1965–66) and (as Century 21) Captain Scarlet and the Mysterons (1967–68). After a screening of the pilot episode for Thunderbirds (Trapped in the Sky), Grade famously said to Anderson, "Gerry, this is not a television series! This is a feature film!".
Grade then insisted that the episodes be lengthened to fill a one-hour slot. Grade also helped to promote the films Thunderbirds Are Go and Thunderbird 6, which sadly both flopped.
Biography
Edit
In 2010, Aurum Press published a biography of Lew Grade, which it describes as follows:
"Lew Grade was the last of the old-time media moguls - a genuine show business tycoon. From humble Jewish immigrant beginnings in east London, he became the world Charleston dance champion (and could dance it well into his eighties), from which he drifted into theatrical agenting, at which he discovered he was extremely good. Soon he was a top impresario, with his brothers Bernard (Delfont) and Leslie Grade putting together variety bills, owning theatres, and eventually booking showbiz's biggest names from both sides of the Atlantic."
"The birth of commercial television saw him win a franchise with ATV, where Grade was a pioneer of popular culture, responsible for such TV hits as Saturday Night at the London Palladium, Robert Powell's epic portrayal of Jesus of Nazareth and bringing shows like Thunderbirds and The Muppets to British TV screens. He then went into films, most notoriously with Raise the Titantic! whose cost over-runs inspired his most memorable witticism, that "It would have been cheaper to lower the Atlantic". Grade was still working until he died in his early nineties, in the office at dawn, puffing on his trademark giant Montecristo cigars, and never losing his love of a deal."
"Some of my shows are good, some are bad," he once said. "All of them are great". Lew Chester's biography - the first to be written, is an endlessly entertaining portrait of someone who was truly larger than life."