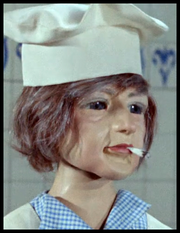 Lilian is a character from Vault Of Death. She also makes a cameo in the Thunderbirds 1965 episode The Stately Homes Robberies.
Lilian is Lady Penelope's cook.
In Vault of Death, Parker invariably calls her Lil, but in The Stately Homes Robberies, Lady Penelope refers to her by her proper name, Lilian.
She was voiced by Sylvia Anderson.
Lil later makes a couple of cameo appearances in The Duchess Assignment: at the Duchess's table in the casino at the start of the episode, and again at the art gallery, admiring the Duchess's painting.
Ad blocker interference detected!
Wikia is a free-to-use site that makes money from advertising. We have a modified experience for viewers using ad blockers

Wikia is not accessible if you've made further modifications. Remove the custom ad blocker rule(s) and the page will load as expected.