The following is a list of credits featured in the Turbocharged Thunderbirds television series.
Original ThunderbirdsEdit
Turbocharged ThunderbirdsEdit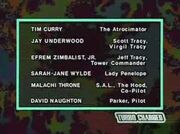 Segment Producer: Gary Glasberg (Credited from Episode 3 onwards)
Story Editors: Steve Anker, Jonathan Seay, Matt Gore (Credited from Episode 4 onwards)
Executive Producers: Sally DeSipio, Robert A. Tercek, Sigurjon Sighvatsson
Producer: Mark Fetterman
Associate Producer: Steve Anker
Supervising Producer: Scott S. Flor
Director of Photography: Michael J. Ozier
Camera Operator: Dermott Downs
1st Assistant Director: Wesley "Boomer" Terry
Unit Production Manager: Rachael Watanabe-Batton
Production Coordinator: Tony McGarry
Casting Director: Jeff Gerrard
Post Production Supervisor: Matt Gore
Art Director: Kevin Pfeiffer
Costume Designer: James Hayes
Wardrobe Assistants: Jane Allen, Lori K. Jesneck
Key Grip: John Beran
Gaffers: John Phillion, Brian "Wheat" Villegas
Hair/Make-Up: Alison Murphy, Barbera Howard
Special Effects: Gary D'amico, Christine Onesky (Credited from Episode 3-6, 8-13)
Propmaster: Barbara Cole
Set Decorator: Leslie Erganian
Leadman: Jason Howard
Video Coordinator: Dan March
Video Engineers: Randy Johnson, Mike Snedden
Audio: Ken McLaughlin, Dan Monohan
Boom Operators: Pat Orsbun (all), and Jean-Paul Delahoussey (Episodes 3-6)
Camera Utility: Aaron Lathan
Script Supervisor: Nili Sinai
Script Coordinator: Rebecca Rother (Episodes 1-2, 7), Lisa McAlpin (Episodes 3-6)
Production Assistants: Carrie Donahue (all), Chris "Diddler" Davies (all), Andrew "Jamacia" Porteus (all), Nadia Guglielmetti (Episodes 1-2, 7)
Graphic & Special Effects: View Studio
Computer Graphic Design: Mark Felt
Henry Artist: Bill Lae
Editors: Ken Paonessa (Episode 1), Johnathan Seay (Episodes 2-13)
Assistant Editors: Jim Gurdine (Episode 1), Jason Grace (Episodes 2-13)
Post Assistant: Anthony Gore
On-Line Editor: Stephen Bookbinder (Credited from Episode 3-6, 8-13)
Processed on FilmLook ®
Music by: Ed Potokar (All)
Underscore Music Produced by: Birch Johnson (Uncredited) & Gary Anderson for Sound Productions, Inc.
Post Production Audio: Gnome Productions
Supervising Sound Editor: Bruce Nazarian
ADR Editor: Robert Troy
Music Editor: Vern Carlson
Sound Effects Editor: Greg Beaumont
Re-Recording Mixer: Dennis Patterson, Lance Wiseman
Executive in Charge of Production: Tim Clawson
FOR BOHBOT ENTERTAINMENT WORLDWIDE (Title appears from Episode 3 onwards. Credited as "Bobbot" in Episode 2.)
© 1994 (Episodes 1-5, 7), 1995 (Episodes 6, 8-13) ITC Entertainment Group Limited . All rights reserved. An APF Television Production, In Association With ATV, Propaganda Films In Association With ITC
Ad blocker interference detected!
Wikia is a free-to-use site that makes money from advertising. We have a modified experience for viewers using ad blockers

Wikia is not accessible if you've made further modifications. Remove the custom ad blocker rule(s) and the page will load as expected.