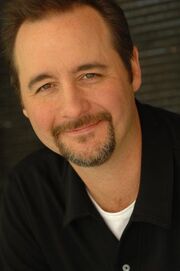 Mark Cronin is an American writer and producer of many television programs. Initially an engineer in the fields of research and marketing, Cronin broke into television in 1991 as a staff writer on The Howard Stern Show, and steadily became one of the show's brightest talents.
By the mid 1990's, Cronin teamed up with writing partner Gary Auerbach to form Mindless Entertainment, creating a variety of programs including The X Show, America's Most Smartest Model, Extreme Dodgeball, and Beat the Geeks. Shortly after Auerbach left, the company was joined in 2004 with 51 Pictures to become 51 Minds Entertainment, which in 2008 was bought by Endemol USA.
Turbocharged Thunderbirds
Edit
Co-Writer with Gary Auerbach (Episodes 1, 2, 6)
External Links
Edit
Ad blocker interference detected!
Wikia is a free-to-use site that makes money from advertising. We have a modified experience for viewers using ad blockers

Wikia is not accessible if you've made further modifications. Remove the custom ad blocker rule(s) and the page will load as expected.