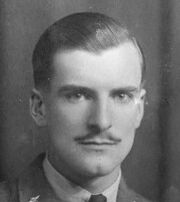 Maurice Askew (May 12th, 1916 - December 11th, 1986) was credited as "sound" on Thunderbirds season 1 and 2. On the first feature film Thunderbirds Are Go, he was a sound mixer. Behind the scenes, Askew helped make the puppets' lip movements more realistic: with a third resistance-capacity network that was fed off the tape's sensitivity level, the solenoid in the the lower jaw opened signicantly less for narrow sounds (e.g., "he" and "me") and considerably wider for open, long-sustained vowels (e.g., "oh" and "ah").
His first name was Ernest; Maurice was his middle name.
External Links
Edit
Ad blocker interference detected!
Wikia is a free-to-use site that makes money from advertising. We have a modified experience for viewers using ad blockers

Wikia is not accessible if you've made further modifications. Remove the custom ad blocker rule(s) and the page will load as expected.