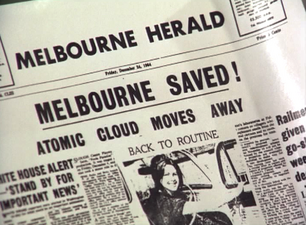 The Melbourne Herald was a newspaper published in Australia and is featured in the episode The Mighty Atom.
Reporters from the newspaper covered the story of the destruction of the Atomic Irrigation Station.
While they were on a tour of the plant (in a tour bus), they witnessed first hand, the fire breaking out. After making hurried calls to the editor they were air lifted to safety, along with the staff working at the station.
Eddie Kerr and a colleague from the paper, also attended the press conference given by General Speyer updating them on the atomic cloud that was drifting towards Melbourne.

The newspaper seen in the episode is dated Friday 24th December 1964. The same date is also seen on the newspapers in Edge Of Impact, The Impostors, Cry Wolf and Path Of Destruction and was clearly not intended to be visible to television viewers (Oddly, 24th December 1964 was a Thursday!).