Mr. Morrison is a character from Security Hazard. He is the father of Chip Morrison.
A fire breaks out at a English mine, and after tucking this son up in bed go's off to help with the fire. On his return in the morning, he is completely unaware, that his son has been to Tracy Island and back while he was away.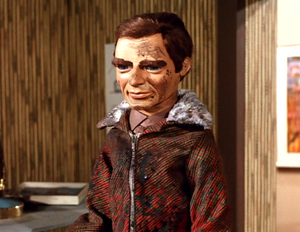 The puppet used for Morrison appears in a total of 9 different episodes, which is more than arch-villain The Hood's total. By production order, 8 of its appearances occurred within the space of just 10 episodes.
Its other appearances are: Executive Moore in Vault Of Death, Hitchins in The Cham-Cham, one of the casino croupiers in The Duchess Assignment, and Simms in Path Of Destruction. In Atlantic Inferno, it briefly appears on television as a TV reporter, and in The Man From MI.5, it puts in a cameo as a passenger on board Fireflash. It also plays a Satellite HQ operative in Cry Wolf, and a patron at the Atalante Restaurant, Paris in Alias Mr. Hackenbacker.
It makes two cameo appearances in the movie Thunderbirds Are Go: first attending the SEC meeting, and again at the press conference.
Ad blocker interference detected!
Wikia is a free-to-use site that makes money from advertising. We have a modified experience for viewers using ad blockers

Wikia is not accessible if you've made further modifications. Remove the custom ad blocker rule(s) and the page will load as expected.