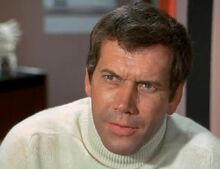 Neil McCallum (May 20, 1929 – April 26, 1976) was a British-Canadian actor and voice actor. He provided the voice of Dr. Ray Pierce in the film Thunderbirds Are Go (1966). His voice also appears in several episodes of Gerry Anderson's TV series Captain Scarlet and the Mysterons (1967). He made a live-action appearance in one episode of UFO (1970).
Ad blocker interference detected!
Wikia is a free-to-use site that makes money from advertising. We have a modified experience for viewers using ad blockers

Wikia is not accessible if you've made further modifications. Remove the custom ad blocker rule(s) and the page will load as expected.