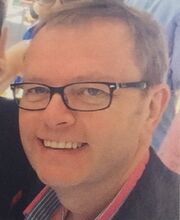 Nick Williams is the current chairman of Fanderson. He has held this position since his predecessor Chris Bentley stepped down in 2007.
Williams provided invaluable assistance on The Complete Book of Thunderbirds, received special thanks - under "Author's Acknowledgements" - on Haynes' Thunderbirds manual, and was credited under "thanks to" on Thunderbirds: A Complete Guide to the Classic Series. Additionally Williams received thanks on Thunderbirds: The Vault for the provision of additional images.
Ad blocker interference detected!
Wikia is a free-to-use site that makes money from advertising. We have a modified experience for viewers using ad blockers

Wikia is not accessible if you've made further modifications. Remove the custom ad blocker rule(s) and the page will load as expected.