Equipment & Vehicles
Nitrogen Hexachlorophene Truck

Type:
Nitrogenised disinfectant transport
Affiliation:
Unknown
Main Operator:
Unknown
Appearances:
30 Minutes After Noon
The Nitrogen Hexachlorophene Truck is a vehicle seen in 30 Minutes After Noon.
When Lady Penelope and Parker went in pursuit of the foreign agents in FAB 1, their progress was impeded by the Nitrogen Hexachlorophene Truck. In the end, an exasperated Lady Penelope ordered Parker to "give him a toot".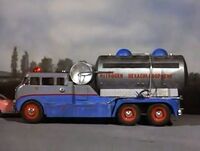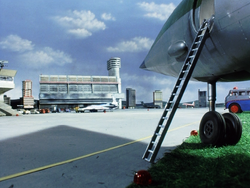 The Nitrogen Hexachlorophene Truck later also appeared in the "Captain Scarlet" episode Place of Angels, where it is seen parked on the apron at Los Angeles Airport.
The model of the truck was built using a Pippin Bedford Merryweather toy fire engine.
Ad blocker interference detected!
Wikia is a free-to-use site that makes money from advertising. We have a modified experience for viewers using ad blockers

Wikia is not accessible if you've made further modifications. Remove the custom ad blocker rule(s) and the page will load as expected.