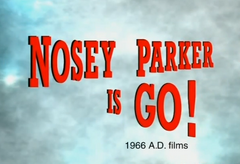 Nosey Parker is Go!
is a tribute video made by the Australian artist
Jeff Smart
. It was released to coincide with the show's 25th anniversary.
The International Rescue team are away on holiday for a few days, leaving Parker to look after the place. Suddenly, the phone rings. It's Bruno, and he needs help: the Hotel Monte Bianco is on fire. Parker explains the IR team are away, but when Bruno misunderstands him and hangs up, he decides to take off in Thunderbird 2 and attempt a rescue single-handedly.
Voice Cast
Edit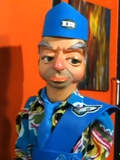 Transcript
Edit
Main article: Nosey Parker is Go!/Transcript
External Links
Edit
Ad blocker interference detected!
Wikia is a free-to-use site that makes money from advertising. We have a modified experience for viewers using ad blockers

Wikia is not accessible if you've made further modifications. Remove the custom ad blocker rule(s) and the page will load as expected.