Olsen is a character from The Cham-Cham. He is the Cass Carnaby Five's band manager and part of the conspiracy to destroy the RTL-2 transporter planes and their cargo.
When he discovered that Parker, Tin-Tin and Lady Penelope were spying on him, he tried to kill them all by cutting the cable car powerline. He was later captured and arrested.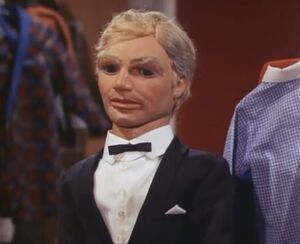 Biography
Edit
Olson Meets The New Guests
Edit
Unaware the new guests are there to spy on him, Olsen takes Tin-Tin to meet Cass Carnaby backstage and latter dances with Lady Penelope, who is undercover as the new torch singer Wanda Lamour.
A Musical Discovery
Edit
Main article: Olsen's Chalet
A New Arrangement
Edit
Olsen gives Cass a new arrangement of Dangerous Game for their next performance, but after he leaves Tin-Tin pleads with Cass to substitute an arrangement that Brains has devised. Olsen watches from the wings as Wanda Lamour (Lady Penelope) changes the tone, giving the Unidentified Fighter Jets the wrong location of the RTL-2 transport plane.
The Game Is Up
Edit
As Lady Penelope and Tin-Tin make their getaway in the Cable Car, Olsen rushes to the terminal and turns the power off, bringing the car to a halt.
Parker pushes the cable car's alarm and the noise wakes Cass Carnaby. While Investigating the alarm, he finds Olsen cutting through the cables. The car is set loose and hurtles down the mountain side.
A behind-the-scenes newsreel, filmed when Thunderbirds first aired, shows Olsen being sculpted.