Operation Cover-up is the name of the security measure used on Tracy Island. Just prior to the arrival of non-International Rescue-affiliated visitors to the island, Operation Cover-up swings into action. The video screens which connect the island's base with each Thunderbird craft normally show a portrait of its pilot in International Rescue uniform. But the push of a button replaces the portraits with innocuous family snapshots.
Operation Cover-up was used in: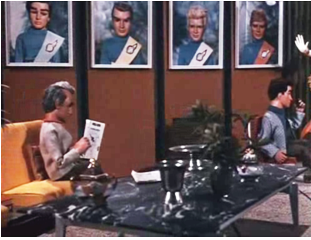 The button that activates Operation Cover-up is situated in the side of one of Jeff's yellow sofas.
In Trapped in the Sky, it is activated by Jeff. In Edge of Impact, it is Scott who pushes the button.
As can be seen above, the side-of-the-sofa prop in Trapped in the Sky looks different from the one in Edge of Impact.
Operation Cover-up also appeared to be in use on two occasions in Operation Crash-Dive, even though there was no reason for it.
Ad blocker interference detected!
Wikia is a free-to-use site that makes money from advertising. We have a modified experience for viewers using ad blockers

Wikia is not accessible if you've made further modifications. Remove the custom ad blocker rule(s) and the page will load as expected.