Conjecture
"Orbiting Space Vessel" is an unofficial title given by the Thunderbirds Wiki.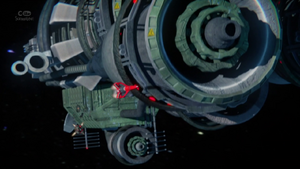 The orbiting space vessel is a massive spacecraft seen in Space Race. When Alan Tracy in Thunderbird 3 was trying to keep a stealth mine on his heat signature, he passed too close to this vehicle and the mine stuck to it instead. Alan had to loop back and make sure the mine stayed on him, or else civilian lives were in danger.
Ad blocker interference detected!
Wikia is a free-to-use site that makes money from advertising. We have a modified experience for viewers using ad blockers

Wikia is not accessible if you've made further modifications. Remove the custom ad blocker rule(s) and the page will load as expected.