The Paradise Peaks Hotel is a location that figured largely in The Cham-Cham.
Perched high up in he Swiss alps, access is by cable car and according to Tin-Tin, it is commonly described as "the highest hotel in Europe".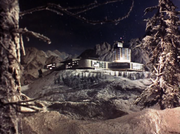 Hotel Interior
Edit
Hotel Staff
Edit
Hotel Guests
Edit
The Cass Carnaby Five performs live in the ballroom of the Paradise Peaks Hotel to numerous guests.
Other Appearances (Isn't That...?)
Edit
Watching the show were the following people:
First Table, Back of Ballroom
Edit
Lady Penelope's Table
Edit
Table at the Back of the Ballroom, Far Side
Edit
Man in black suit, grey hair is Hugo.
Lady in pink top, with brown wrap is Blanche Carter.
Table behind Blanche Carter
Edit
Table Far Side, Middle Row, Under Red Wall Light
Edit
Man in suit
Lady in purple top, face hidden
Table in Middle of Ballroom
Edit
Nobody is sitting at this table. Notice there's no tablecloth on it either.
Table Nearest to Camera
Edit
Man with back to camera, face partly hidden
Lady in blue dress with back to camera
Table Against Far Wall Under White Wall Lights
Edit
Table Front Row, Under Red Wall Light
Edit
Front Row Table
Edit
Ballroom (2nd Night)
Edit
The second night at the Paradise Peaks hotel, Wander Lamour sings Dangerous Game backed by The Cass Carnaby Five.
Ad blocker interference detected!
Wikia is a free-to-use site that makes money from advertising. We have a modified experience for viewers using ad blockers

Wikia is not accessible if you've made further modifications. Remove the custom ad blocker rule(s) and the page will load as expected.