"You rang, m'lady?"
Aloysius Parker is the manservant of Lady Penelope Creighton-Ward and a member of International Rescue.
He's a reformed criminal who used to rob banks, among other things, as well as an expert at picking locks and cracking safes. His nickname is Nosey.
Biography
Edit
Parker is the last of a long line of loyal retainers who served the English aristocracy. He was expected to follow in his forefathers' footsteps; but he couldn't find work, and fell into league with a series of London crooks. He learnt the tricks of the trade from them, and slowly made his way up the chain and earned his nickname 'Nosey.' However, he was eventually captured and landed in prison with Fred, a reformed bank robber. Fred eventually escaped from prison to rob the Bank of England.
Following his release, Parker decided to throw in his status and to find 'proper' work. He was still out of luck, though, and went back to his former ways. Then, whilst robbing a safe belonging to an oil tycoon, Parker was caught by Lady Penelope Creighton-Ward, a young aristocrat who did a bit of part-time spying. Her Ladyship had heard of Parker's status in the underworld, and promised not to turn him in if he took up a working partnership with her instead. Parker realised that this was just what he needed, and happily agreed.
His duties included assisting her on odd jobs, being a faithful butler, and becoming the chauffeur of her pink Rolls-Royce FAB 1. When International Rescue hired Lady Penelope as their London Agent, Parker was dragged in, too.
Parker is a valuable addition - both to Lady Penelope's secret activities, and to International Rescue missions.
Appearances
Edit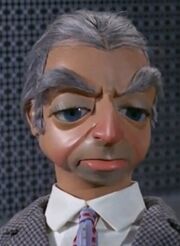 TV episodes: Trapped in the Sky, The Perils Of Penelope, Day Of Disaster, 30 Minutes After Noon, Vault Of Death, The Mighty Atom, The Impostors, The Man From MI.5, Danger At Ocean Deep, The Duchess Assignment, Brink Of Disaster, The Cham-Cham, Atlantic Inferno, Path of Destruction, Alias Mr. Hackenbacker, Lord Parker's 'Oliday (16 episodes).
Movies: Thunderbirds Are Go, Thunderbird 6.
Thunderbirds 1965 episodes: The Abominable Snowman, Introducing Thunderbirds and The Stately Home Robberies (3 episodes)
Missions and Adventures
Edit
Main article: Aloysius Parker/Missions and Adventures
Main article: Aloysius Parker/Outfits
Expressions
Edit
Parker's voice is based on that of a waiter named Arthur (surname unknown) at a pub called "The King's Arms" in Cookham, who used to work for "'Er Majesty".
That first name, 'Aloysius,' seems to be a late invention; and its exact source is presently unknown. It was never used in the TV series, nor in the two classic movies.
Like Lady Penelope, the Parker character was first introduced to the world in issue 1 of TV Century 21 magazine, on 23 January 1965, in a comic-book story now known by the title "Mr Steelman". This was eight months before his UK television début.
Scott, along with Lady Penelope, FAB 1, Parker and Brains appeared in British comedian Peter Kay's "Animated All Star Band" for BBC Children In Need 2009.
"Not so fast, mon ami!...The game's up!" - The Duchess Assignment
"Oh! Oh, that, m'lady. Oh, yes, well the first time, we had an audience, didn't we? I mean, there's only one rule that must never be broken: NEVER disappoint your public!" - Vault of Death
"Oh, she's a one, she is! How she expects me to keep my hand in, I don't know. Oh well, I suppose I'll have to go to the Casino after all." - The Man From MI.5
Ad blocker interference detected!
Wikia is a free-to-use site that makes money from advertising. We have a modified experience for viewers using ad blockers

Wikia is not accessible if you've made further modifications. Remove the custom ad blocker rule(s) and the page will load as expected.