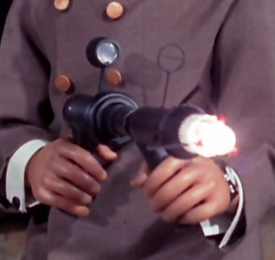 In Path of Destruction, Parker uses a hypnotic ray gun on the guard at Robotics International, when Lady Penelope is unable to persuade the security guard to let her have the address of Jim Lucas.
She informs the guard that he will suffer no after-effects from the rays after he has recovered.
Ad blocker interference detected!
Wikia is a free-to-use site that makes money from advertising. We have a modified experience for viewers using ad blockers

Wikia is not accessible if you've made further modifications. Remove the custom ad blocker rule(s) and the page will load as expected.