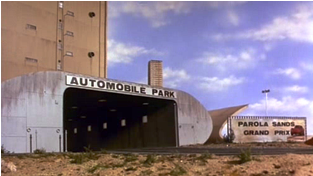 The Automobile Park at Parola Sands, seen in Move And You're Dead, is a huge building containing a car park with room for thirty cars. A stacking system lifts and stores vehicles by use of a hydraulic arm.
The operator's control room is attached to the hydraulic arm and the car sits on a platform in front of him. This means the operator is able to maneuver the platform precisely, up or across, to place an automobile into one of the empty spaces.
Stacking System
Edit
On 18 August 2016, Graham Bleathman said that he produced a cutaway of the car park for a book that the publisher cancelled halfway through production. Despite this, Bleathman said there is a possibility of the cross-section being used in the future.
Ad blocker interference detected!
Wikia is a free-to-use site that makes money from advertising. We have a modified experience for viewers using ad blockers

Wikia is not accessible if you've made further modifications. Remove the custom ad blocker rule(s) and the page will load as expected.