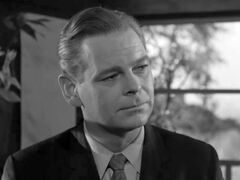 Peter Dyneley (13 April 1921 – 19 August 1977) was an English-Canadian actor. Although he appeared in many smaller roles in both film and television, he is best remembered for supplying the voice of Jeff Tracy for the TV series Thunderbirds and its two film sequels, Thunderbirds Are Go (1966) and Thunderbird 6 (1968), all produced by Gerry Anderson.
Born in Hastings, East Sussex, England, Dyneley spent his early years in Canada but was educated at Radley College in Oxfordshire, England. With his Canadian background, Dyneley frequently performed with a North American accent. He acted primarily in stage productions prior to 1954, when he turned his attention to film. On stage and in film, he regularly appeared opposite his second wife, the actress Jane Hylton, whom he met on the set of the horror film The Manster (1959). He also appeared as a guest star in many television series.
Gallery: Characters voiced by Peter Dyneley
Edit
(Click an image to visit character page)
External Links
Edit
Ad blocker interference detected!
Wikia is a free-to-use site that makes money from advertising. We have a modified experience for viewers using ad blockers

Wikia is not accessible if you've made further modifications. Remove the custom ad blocker rule(s) and the page will load as expected.