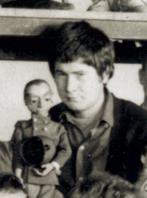 Peter Hitchcock (born c. 1945) worked on Thunderbirds season 1 and 2 and the first feature film Thunderbirds Are Go. He was a lip-sync operator, assistant director, and projectionist at Century 21, but he did not work in the latter role on any of the three aforementioned productions; it was only during Stingray that Hitchcock was a projectionist.
In his role as assistant director, his hands and feet were often used as the real life inserts, doing things that the puppets weren't able to do themselves. Hitchcock notably played Lady Penelope Creighton-Ward when Parker shot the poisoned Pernod out of her hand in The Perils of Penelope.
Hitchcock went uncredited for all of his work.