Several different types of Police car were used in the Thunderbirds television show.
Dodge Polara
Edit
Trapped in the Sky
Edit
The Hood makes his getaway in a Dodge Polara Police patrol car, and is gunned down by Lady Penelope and Parker in FAB 1
Other Appearances
Edit
The Dodge Polar police cars were used in several other episodes.
Martian Invasion
Edit
Actors Slim and Maguire are acting as police officers in a movie, where they respond to a flying saucer report. They drive to the location in the Nevada desert in a gray, Dodge Polara, Police car.
Terror In New York City
Edit
Mobile Radio Control Police Van
Edit
Main article: Mobile Radio Control Police Van
Road Block Police Car
Edit
A white and black Police car was seen at the road block, in the area of the collapsed Empire State Building.
Day Of Disaster
Edit
The Martian Space Probe was escorted by two Police cars. Several other Police cars were seen en route. The bubble top cars are adapted from 'Silhouette' show car, an AMT model kit
30 Minutes After Noon
Edit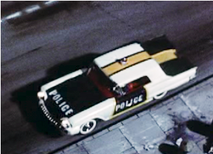 The Spoke City police car has a distinctive yellow band across its roof.
Path of Destruction
Edit
In Path Of Destruction, Gutierrez (the local police officer), leaves San Martino in his police car, when the Crablogger smashes through the village.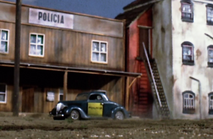 Thunderbird 6
Edit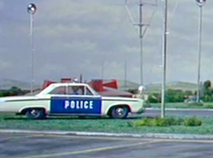 Police car seen at Dover Missile Base in the movie Thunderbird 6.
Ad blocker interference detected!
Wikia is a free-to-use site that makes money from advertising. We have a modified experience for viewers using ad blockers

Wikia is not accessible if you've made further modifications. Remove the custom ad blocker rule(s) and the page will load as expected.