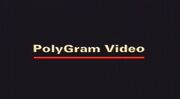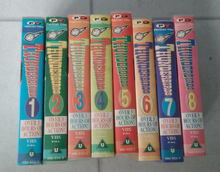 A division of the highly successful music distribution company, PolyGram Filmed Entertainment was founded in 1980. PolyGram's association with the Thunderbirds franchise began in the mid-1980's through Channel 5, a subsidiary company (co-owned by Heron Communications) which handled distribution of video tapes featuring the trio of compilation films. These tapes sold well, and by the late 1980's, the range expanded to include every other Thunderbirds episode.
It wasn't until 1991 that PolyGram started taking a greater interest in the original series, and the foundations were laid for events which would come to pass in later years. They began by purchasing Propaganda Films (who were responsible for Turbocharged Thunderbirds' production and effects) and closing the Channel 5 division to release the series themselves, along with four new compilation tapes. In their final takeover move, the company would go on to buy out ITC Entertainment's film and video library for $156 million dollars, effective January 1st 1995.
Ultimately, PolyGram's future came to a grinding halt in 1998 upon being sold to the (also now defunct) Canadian beverage corporation, Seagram. The buyout was made specifically for Polygram's music library, and Seagram subsequently sold off the entire visual library to numerous buyers. The remaining ITC productions (including Thunderbirds) were sold to Carlton Communications on January 19th 1999 for a price of $150 million.
Turbocharged Thunderbirds
Edit
Thunderbirds ("30th Anniversary Series")Edit
External Links
Edit
Ad blocker interference detected!
Wikia is a free-to-use site that makes money from advertising. We have a modified experience for viewers using ad blockers

Wikia is not accessible if you've made further modifications. Remove the custom ad blocker rule(s) and the page will load as expected.