Equipment & Vehicles
Poseidon

Type:
Top secret missile project
Affiliation:
United States Air Force
Appearances:
The Cham-Cham
The Poseidon Missile was a top secret project led by the United States Air Force.
In The Cham-Cham, RTL-2 transporter planes were being used to transport the missile on delivery missions, although these were top secret assignments, one after another, three planes were shot down by unidentified fighter jets.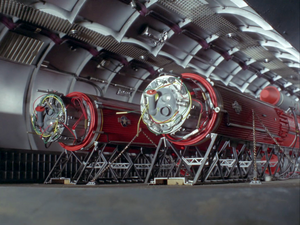 Ad blocker interference detected!
Wikia is a free-to-use site that makes money from advertising. We have a modified experience for viewers using ad blockers

Wikia is not accessible if you've made further modifications. Remove the custom ad blocker rule(s) and the page will load as expected.